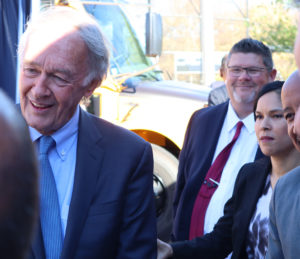 LAWRENCE, Mass. – As gas prices remain an ongoing concern, too many districts continue paying a premium to keep fleets moving.

In addition to contending with the cost of fueling school buses with diesel fuel, is the issue of significant emissions.
Looking to the future, officials announced plans Monday to update the district's fleet on the grounds of Lawrence High School.
Among those on hand were two members of Congress, U.S. Sen. Edward Markey (D-Mass.) and U.S. Rep. Lori Trahan (MA-03). Each voted in support of implementing funding for the EPA's Clean School Bus Program. Between fiscal year 2022 and 2026, the program will allocate $5 billion to replace existing school buses.
While at the podium, Sen. Markey looked back to the history of the combustion engine. Citing the combustion engine's over 100 years of market dominance, he said, "that reign's about to come to an end."
Turning that corner will be achieved by the Lawrence schools receiving grant funding to purchase 25 zero-emissions school buses. The school district received the largest grant funding in the state, nearly $10 million for the buses. Among the benefits will be spending less on diesel fuel to operate the fleet, while cutting community emissions.
As noted by Tim Sheehan, Senior Vice President of Operations, New England for Beacon Mobility, NRT Bus has been working with the Lawrence Public Schools since 1998. The contract has served as one of NRT's longest standing contracts in the state.
The motivation behind upgrading the fleet was multifaceted, explained Sheehan. "Transitioning to clean energy is a critical puzzle piece, in the state's overall goal to cut emissions," Sheehan noted. "We are pleased to be leading the charge, by investing in electric school buses to cleaner, more energy-efficient vehicles."
Stepping Up to Create a Healthier Environment
Among the various speakers, whether it be Sen. Markey, Rep. Trahan, Sheehan or David Cash, EPA Administrator for Region 1, each talked about the value of moving to electric buses and helping to reduce emissions.
Cash recalled his time as a student, and his less than ideal experience waiting for a bus. "When I was a kid, I would wait on my corner waiting for my school bus. When that bus arrived, mmmm … it was stinky. I had friends who got headaches."
Fast forward to a time when Cash talked of his time working as a teacher in Amherst, Massachusetts. "I would be there, welcoming kids in the morning, with bus after bus after bus (coming and going)," Cash said. "I would be smelling that sweet, acrid diesel, and I knew there had to be a better way."
That "better way" became possible with the infrastructure bill recently passed by the House of Representatives, on Nov. 5, 2021. "It opened up the opportunity" for drivers to begin driving electric buses with the allocated funding, Cash noted.
Creating a healthier environment, though, goes well beyond eliminating an acrid smell or avoiding headaches, emphasized Cash. With the first year of funding, "we are prioritizing those in greatest need" including in urban areas, "where we know the asthma rates for kids are higher than normal."
With the new buses, Sen. Markey noted that the district would be "investing in greener buses, so that we can do more learning, and less fossil fuel burning."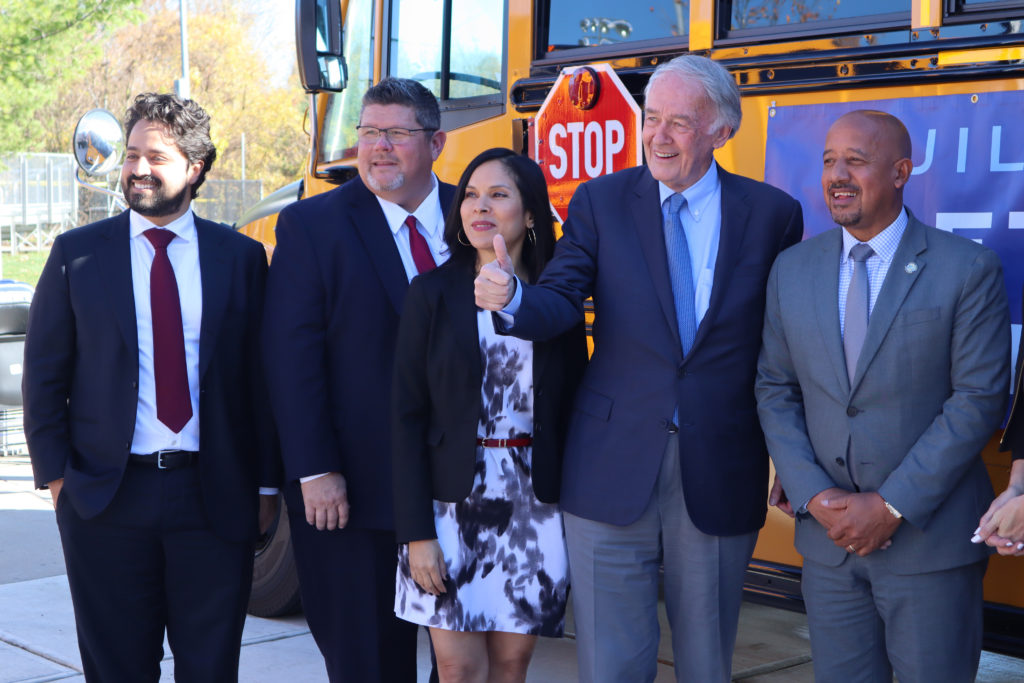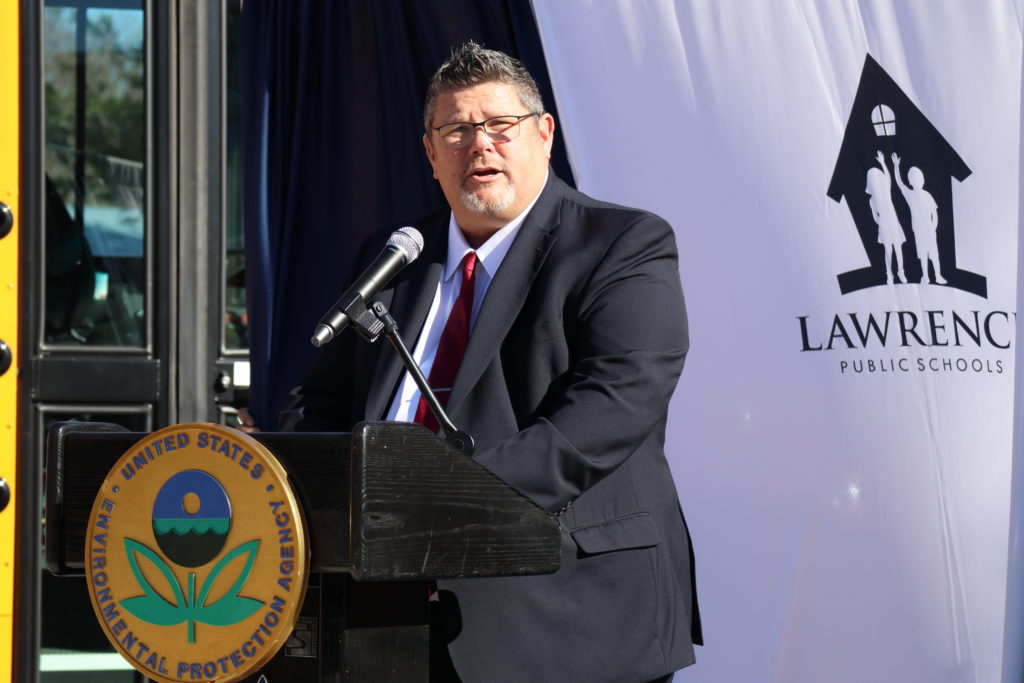 Following the announcement of how the Lawrence Public Schools will be replacing some of its aging fleet through the Clean School Bus program, Beacon Mobility SVP of Operations, New England, Tim Sheehan (second left) stands with U.S. EPA Chief of Staff Sanjay Seth (far left); Lawrence Public Schools superintendent Cynthia Paris (middle), U.S. Sen. Ed Markey (D-Massachusetts) and Lawrence Mayor Brian De Peña (far right).
Photo by ANDRES CAAMANO
Beacon Mobility SVP of Operations, New England, Tim Sheehan talks to the audience during the event announcing that the Lawrence Public Schools are to bring on 10 new electric school buses.
Photo by ANDRES CAAMANO